boring dduk rumah so we came out with one plan, lepak dekat JCO KSL. hehee. actually nk teman ana pegi beli shoes, suddenly xde size, so nk mengubat hati dia yang konon lara, ajakla pegi makan JCOOL dekat JCO. hehe
at the counter. nak bayar la ni konon.
si penjaga counter : ni je? anything else u wanna add?
me : hmm nope, but can i have extra spoon please.
si penjaga counter : ohh yeah sure, ur name miss.
me : ohh, Nur Fatihah (muka yakin)
si penjaga counter : your fone number miss?
me : haaaa? since when JCO mtk no fone ni? (weird face)
si penjaga counter : ehh, ni betul ni miss, i nk key in ni.
then suddenly ade akk yg tga buat air jerit
akk buat air : laa xpyah layan die tu, gatal. haha
me : laaa, haha, okay okay. (AKAK! u saved me)
tak serik lagi si penjaga counter ni,
si penjaga counter : status ape? status?
me : married, ni anak la ni kt sebelah (tunjuk ana)
si penjaga counter : ehh yeke? (muke tak puas hati)
i malas nak layan i pun bla la dulu, cri seat then i sruh ana amik tissues. when she came back. she told me that....
ana : kak, abg tu tye lagi. betul ke tu mak awk?
me : hbis tu ana jwb ape?
ana : ana angguk je. hahha. lepas tu die ckp "OMG" hahahaa
me : padan muke hang, gatai sangat. haha
kite orang amik JCOOL yang sharing. it cost around RM13 laa. tp worth it sebab ice cream banyak plus topping die lagi, memang best laa. macam tutti frutti :)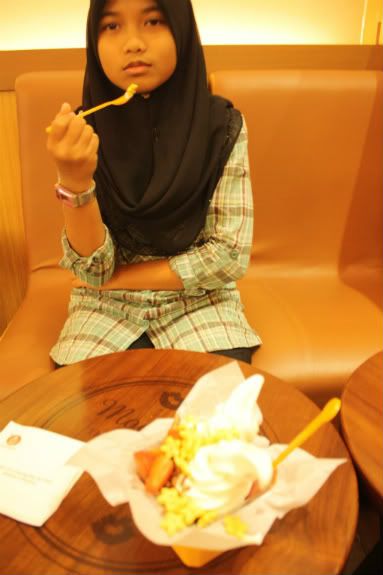 yeahh, dgn budak gemuk ni lah saya pergi. mcm big boss budak ni. tau order je. ahha
oeyahhhh, ini die JCOOL! memang COOL kn?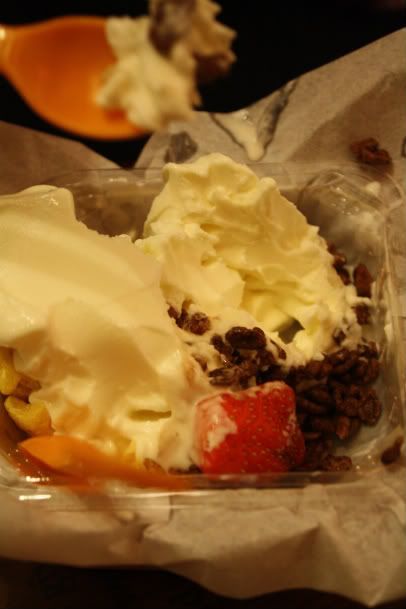 hehe, dh nk habis pun. topping ktorg crunchy, grape, strawberry and honey star.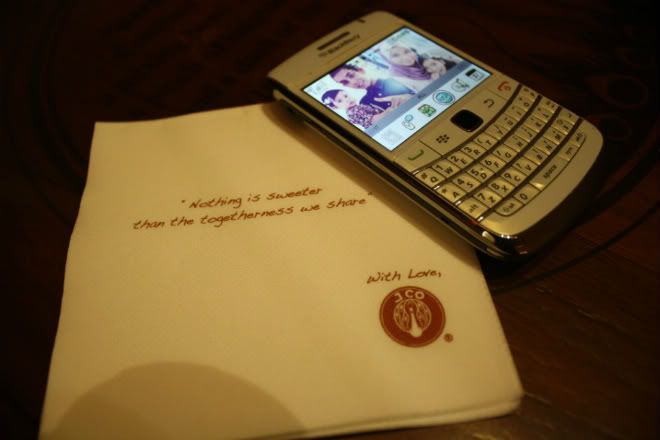 JCO ni mcm tau-tau je. hehehe.